Conditions for new nuclear power
The government wants to invest heavily in new nuclear power in order to achieve the climate goals and transition to a fossil-free society. But what are the conditions for building new reactors in Sweden in the near future? What is technically possible and what will it take to convince people to invest? More facts and less opinion are needed here to make wise decisions, says Fellow of IVA and former CEO of Vattenfall Lars G Josefsson.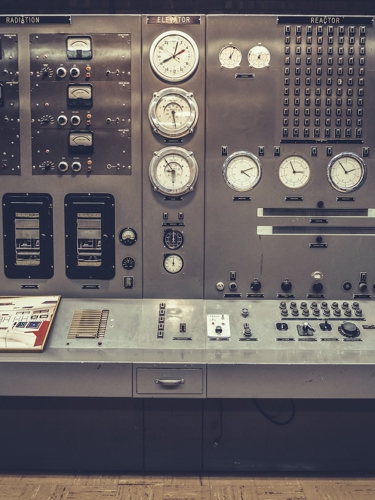 Published: 24 November 2022
Last Updated: 28 June 2023
So far, the debate has mainly focused on who is for or against new nuclear power. Rather than a fact-based energy discussion, it has been more about opinions and emotional arguments, almost like a religious debate.
– "This has been the case for decades," says Lars G Josefsson, who has been working on the role of nuclear power in the energy system for more than 20 years.
Like most countries, Sweden is facing the challenge of transitioning to a fossil-free society – and it has to be done quickly. In its latest report, the UN's climate panel warns that the world is about to miss the goal of keeping global warming below 2 degrees Celsius. Efforts to phase out fossil fuels will, among other things, mean a dramatic increase in the need for fossil-free electricity. In Sweden, it is estimated that national electricity demand will double over the next 20 years, and most scientists and experts agree that the only way to tackle this challenge is to invest in a combination of different fossil-free energy solutions. Nuclear power is one of the options available, alongside others such as solar and wind power, hydrogen gas and battery storage.
Nuclear power – a controversial solution
Nuclear power has been a supporting cog in the Swedish energy system since the early 1970s. In 2021, it accounted for just over 30 percent of Swedish electricity generation, making it the second largest source after hydro power. However, the technology has been controversial for decades. Critics have warned of safety risks and pointed out that nuclear power is not renewable, while advocates have pointed to the role of nuclear power as a guarantee of fossil-free, stable and controllable electricity generation. Having plateaued for many years, interest in building new nuclear power has grown in many parts of the world, reports Anna Nordling, Sector Manager for Energy, Resources & Industry at consultancy firm WSP, which among other things is working on investigating the viability of new nuclear power plants around the world.
– "The war in Ukraine and the issues with the supply of natural gas to Europe have given nuclear power a renaissance, and now many countries are looking at the possibility of building new nuclear power."
Another factor that has helped to increase interest in new nuclear power is the recent advances in the development of small-scale nuclear power technology, which could offer an alternative to today's conventional large-scale reactors.
– "There are many different options on the table, and it is important that society and those who will be making the decisions about what the future energy system should look like have an up-to-date picture of where we stand right now. On this subject, I believe we need to raise knowledge levels not just among politicians but across the industry," says Anna Nordling.
IVA aims to help raise awareness
To improve the level of knowledge, the Royal Swedish Academy of Engineering Sciences (IVA) has chosen to organise two seminars aimed at placing any Swedish investment in new nuclear power in a fact-based context.
– "It isn't about whether you should be for or against an investment in new nuclear power. What we will be focusing on is that, with the new government now saying it wants to invest SEK 400 billion in building new nuclear power in Sweden, we need to be aware of where we stand right now," says Lars G Josefsson, one of the co-organisers.
The first seminar will look at the technical options available today, and how they differ from the technology in Sweden's current nuclear power plants. How long would it take to build new plants and what would it cost?
– "We want to provide a broad overview of the technical solutions that are available on the market today. We also want to give a picture of how mature the various technical options are, who has the knowledge and capacity to build them, and where in the world they have already done so and how it has gone," says Karl Bergman, Vice President Research and Development at Vattenfall AB.
The second seminar is about giving an idea of the current conditions for investors who may be interested in the construction of new reactors in Sweden. What are the current laws, regulations and frameworks? And what changes would have to be implemented to make it even possible to build new plants?
– "We haven't built nuclear power in Sweden for almost 40 years, and we have no current laws or frameworks in place. At present, there is not even a regulatory framework for applying to build a new nuclear power plant," Bergman explains.
Basis for smarter decisions
The climate issue is perhaps the greatest challenge facing humanity. According to the UN's climate panel, it is crucial that strong action is taken quickly to convert today's energy systems to more sustainable solutions. The purpose of IVA's seminar is to help ensure that the decisions on the role nuclear power could play in this equation are based on sound knowledge.
– "The country is full of commentators, journalists and experts, self-proclaimed and genuine, all of whom have opinions. And the more information they have and the more chance they have to be involved in the debate on these issues, the greater the chance that there will be an understanding and a consensus about what to do and invest in," says Lars G Josefsson.
About the interviewees
Lars G Josefsson is a former CEO of Vattenfall. He was also a climate and energy advisor to Chancellor Angela Merkel in Germany and has been a Fellow of the Royal Swedish Academy of Engineering Sciences (IVA) since 2006.
Anna Nordling is Sector Manager for Energy, Resources & Industry at consultancy firm WSP. She holds a Master's degree in mechanical engineering and has been working on energy issues for almost 20 years, including at nuclear power plants in South Africa.
Karl Bergman is Vice President Research and Development at Vattenfall AB. He has a doctorate in semiconductor physics, has been a Fellow of the Royal Swedish Academy of Engineering Sciences (IVA) since 2011 and chairs IVA's council on the theme of Climate, Resources and Energy.