How are Swedish companies coping with record inflation and war?
The world is in a turbulent economic situation. In Sweden, inflation is at its highest in over 30 years. Central banks are raising their interest rates, while war and conflicts are interrupting the supply of critical input goods for industry. We are in a situation that may affect Swedish companies in many ways for a long time to come, says Annika Winsth, Chief Economist at Nordea and Fellow of IVA.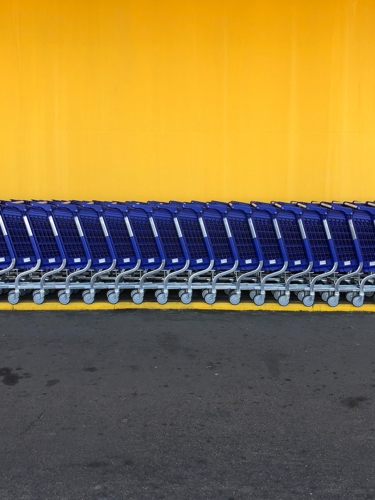 Published: 22 August 2022
Last Updated: 28 June 2023
Swedish companies are now global to a large extent, which makes them sensitive to movements in the world economy. And indicators in many countries are pointing to a slowdown.
– "The depth of this downturn is largely in the hands of the central banks. The more interest rates are raised, the deeper the decline. Many Swedish companies should assume that demand is going to slow down going forward," warns Annika Winsth, who has spent more than 25 years analysing how fluctuations in the global economy affect Sweden.
The movements in the global economy have been clear to see recently. The Chinese economy has slowed, but there are also signs in Europe and the US that the peak was passed some time ago. In the US, the most significant interest rate hike in decades is set to dampen future growth prospects. And as Anna Winsth puts it, what happens in the American economy is crucial for the global economy – and therefore also for Sweden.
– "The extent to which the Federal Reserve raises interest rates is of huge importance to Swedish companies – more so in fact than what the Swedish Riksbank does. When the US presses the economic brake, it slows the whole global economy. But if they apply too much pressure, they risk tipping not only themselves, but also us into recession.
Sweden's competitive advantages in a conflict-hit economy
Another factor that has negatively impacted the global economy is the conflicts and exceptional events that have been occurring in the world recently. The war in Ukraine and the sanctions targeted at Russia by the West have led Swedish companies, like companies in many other countries, to suffer both high energy prices and disrupted supply chains.
Added to this, the last two years of Covid lockdowns created a shortage of semiconductors, which most of the world's technology companies depend on for their production. And Russia also produces several inputs that are important for technology companies in both Sweden and the world. The supply of these has fallen sharply and this shortage is difficult to make up elsewhere, at least in the short term, says Winsth.
– "The battery manufacturer Northvolt has been hit by a shortage of nickel sulphate and IKEA by a shortage of plywood and oak. They now need to find alternatives, but the problem is that the rest of the world is having to do the same."
The shaky global situation has created an especially tough competitive situation for companies in several industries around the world. But Annika Winsth's analysis of previous experience indicates that Swedish companies are better placed to cope than many other countries.
– "Southern Europe, for example, was more affected by the pandemic and the restrictions. The advantage of coming from a small, open economy is that Swedish companies have always needed to be flexible and agile. They are good at pivoting, and I think they can benefit from that ability this time too," she says.
Financial support doesn't necessarily increase competitiveness
The current economic situation in Sweden and the world has been compared with that of the 1970s, when conflicts in the Middle East led to high oil prices and soaring inflation. Then, as now, opinions differ on what the government should do – and whether it should do anything at all. Annika Winsth believes that politicians are too focused on financial support for households in particular, and that many can actually bear the cost increases that have happened, and those to come.
– "It is wasteful to spend taxpayers' money on dishing out general support and grants. Targeted support for highly vulnerable groups or companies is a much better approach," she says.
Winsth believes that the most important role of government policy is to make Sweden attractive to entrepreneurs, businesspeople, venture capitalists and students. Above all, companies should want to do business here. In order for them to do so, she believes that politicians need to resolve several important challenges.
– "Energy security is one. Energy production must be sustainable and reliable throughout the country. In addition, we have to have the right skills in place, not least engineers. It is fundamentally the job of the politicians to ensure that the Swedish labour market is supplied with the necessary competence."
About Annika Winsth
Annika Winsth is Chief Economist at Nordea, where she has had various positions since 1994. She has previously worked at the Swedish Ministry of Finance and currently sits on the boards of the Swedish Institute of International Affairs and Lund University, where she also holds an honorary doctorate in economics. Annika Winsth has been a Fellow of the Royal Swedish Academy of Engineering Sciences (IVA) since 2021.