Insufficient EU support for Ukraine
One year on from Russia's invasion, Ukraine is a country in need of huge support from the outside world, and not just in military form. It is already estimated that the costs of rebuilding the country will be many times higher than the value of the entire Ukrainian economy. And the help that the EU is currently providing is far from sufficient. So says Torbjörn Becker, Director of the Stockholm Institute of Transition Economics (SITE) at the Stockholm School of Economics, and Fellow of IVA.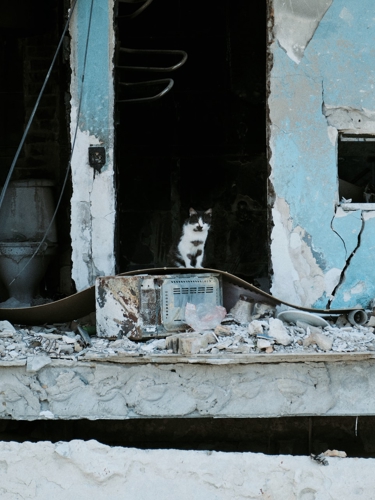 Published: 24 February 2023
Last Updated: 28 June 2023
In my view, it is high time the EU stepped up its support for Ukraine.
– "We could have a much more ambitious plan, and be much more accommodating in terms of how we might support Ukraine in their hour of need," says Torbjörn Becker, who has been working with research colleagues in Ukraine for many years.
Since the start of the war, researchers at Kyiv School of Economics have tracked how much money the outside world has contributed in the form of aid for Ukraine, not just military resources, but also humanitarian, budgetary and financial aid. The EU has so far committed around USD 50 billion to Ukraine. To put this sum into perspective, it represents approximately 0.3 percent of the EU's total GDP, or 2.4 percent of what EU member states plan to invest in building up their own defences over the coming years. According to the researchers' calculations, the 50 billion for Ukraine is also no more than a tenth of the sums that the EU has planned to spend on energy subsidies in its member states.
– "This means that it would hardly register in our debt figures if we borrowed this money and gave it straight to Ukraine. Instead, they are receiving much of the aid in the form of loans. And a lot is money that Ukraine is still yet to receive. In addition, it only covers a tiny proportion of the sums that Ukraine would need to compensate for its losses," says Torbjörn Becker.
A fraction of the reconstruction cost
The researchers at Kyiv School of Economics have calculated that the material losses alone amount to almost USD 140 billion. The combined value of the infrastructure damage and loss of property incurred in the form of destroyed housing, jobs, cars, schools and hospitals will soon be equivalent to the entire Ukrainian economy – it already stands at 75 percent of GDP at the level it was in the year before the war began. These sums are difficult to take in, but they will probably have to be multiplied several times over to also cover all the other assets that have been lost in the war and that someone will have to pay to replace or build back up, says Torbjörn Becker.
– "For example, it doesn't include the value of all the lives lost, or the costs of all the refugees who no longer have any homes to live in, or the value of all the missing incomes of the millions of Ukrainians who currently no longer have any workplaces to go to. And it also doesn't include the cost of all the lost school hours that will take students and teachers years to make up."
At a donor conference in Lugano in July 2022, the Ukrainian government presented a figure that attempted to sum up the price tag for all the assets lost at that time during the war. Even then, it came in at USD 750 billion, 15 times more than the amount that the EU member states have jointly committed to so far.
– "So what we need now is massive financial aid for Ukraine, both to end the war and to end humanitarian suffering and the destruction of property and infrastructure. This is the only viable strategy for us in the EU right now. And just as importantly, we will then need to continue pumping money into the rebuilding of the country once the war is over. This will be an important engine of growth – not just for Ukraine, but for the whole of the wider region," says Torbjörn Becker.
History offers hope
From our current perspective, it may seem like an overwhelming task to build up a country that has largely been levelled to the ground. But history shows that it is entirely possible, asserts Torbjörn. For comparison, he takes the German city of Cologne, which was built up from scratch with the help of the outside world after being practically wiped out in World War II.
– "This was very similar to the devastation we see in several places in Ukraine today. So there are ways to rebuild cities. And there are ways to make them better than before, with more modern technology and greener solutions. So I think there is reason to feel hope for the future of Ukraine!"
All quotes are from Torbjörn Becker's contribution to IVA's seminar What more besides weapons does Ukraine need to survive as a nation? on 13 February 2023.
Facts
The scale of the material destruction in Ukraine
Since the start of the war, the damage to the country's infrastructure has been enormous. By December 2022 – after ten months of warfare – it is estimated that at least 84,000 agricultural machines, 195,000 cars, 144,000 buses, trains and trams, 3,000 shops, 593 pharmacies, 330 hospitals and 595 administrative buildings had been destroyed, damaged or seized by Russian troops.
The value of the material losses in Ukraine
Kyiv School of Economics has produced the following figures (in billions of dollars) estimating the cost of restoring and replacing infrastructure, property and resources destroyed in the first 10 months of the war (to December 2022):
| | |
| --- | --- |
| Housing | 54 |
| Infrastructure | 35.6 |
| Environment & Climate | 14 |
| Industrial buildings | 13 |
| Education system | 8.6 |
| Energy | 6.8 |
| Agriculture, forestry and natural resources | 6.6 |
| Transportation | 2.9 |
| Retail | 2.4 |
| Social services | 2.3 |
| Culture, sport & tourism | 2.2 |
| Health sector | 1.7 |
| Administrative buildings | 0.8 |
| Electronic communications | 0.6 |
| Social spaces | 0.2 |
| Financial sector | 0.1 |
| Total: | 137.8 |
Source: The total amount of damage caused to Ukraine's infrastructure due to the war has increased to almost $138 billion – Kyiv School of Economics (kse.ua)
About Torbjörn Becker
Torbjörn Becker has been Director of the Stockholm Institute of Transition Economics (SITE) at the Stockholm School of Economics since 2006, and is also on the board of several economic research institutes in Eastern Europe, including Kyiv School of Economics (KSE). Holder of a doctorate from the Stockholm School of Economics, he has been published in leading academic journals, as well as contributing to several books and political reports with a focus on Russia and Eastern Europe. He has also been a Fellow of the Royal Swedish Academy of Engineering Sciences (IVA) since 2022.