New launch site makes Sweden a major space nation
Europe's first satellite launch site has now been inaugurated – and it is Swedish. Just in time for Sweden's presidency of the EU, Friday 13 January saw the ribbon cutting ceremony for the new launch site at Spaceport Esrange outside Kiruna. As the first of its kind in Europe, this marks a major step towards making Sweden a more significant space nation globally, says Anna Rathsman, Director-General of the Swedish National Space Agency and Fellow of IVA.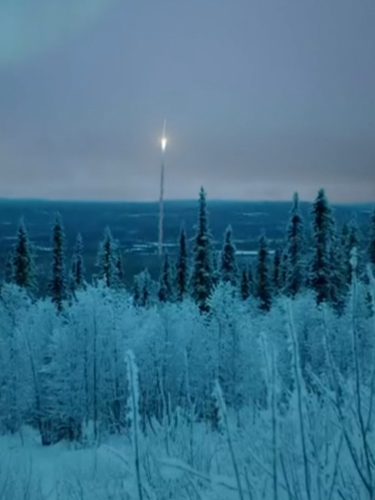 Published: 13 January 2023
Last Updated: 28 June 2023
The fact that Sweden now has a facility that can launch its own satellites is huge. Not many countries in the world have that capability.
– "And having this makes Sweden a more interesting player for other space nations to cooperate with," says Anna Rathsman, who also chairs the ESA Council, the governing body of the European Space Agency (ESA).
As a field of development, space has taken on increasing strategic and practical importance in recent decades, not least with regard to satellites, which are currently used to conduct research, monitor weather and observe climate change, among many other things. They are also an important link for the communication required to maintain critical infrastructure, such as the internet and global financial systems.
Few launch sites create bottlenecks
Sweden's Esrange space base, recently renamed Spaceport Esrange, has existed since the 1960s – but it has never had the capacity to launch rockets large enough to carry the most advanced satellites. Sweden and other countries within the European Space Agency (ESA) have therefore been dependent on launch sites outside Europe. France's base in Kourou, French Guiana has been used for many years, but several European satellites have also been launched from Russian soil. Since the war in Ukraine began, the Russian spaceports have not been available, which has had consequences for international space cooperation, confirms Anna Rathsman.
– "It has meant, for example, that Sweden's MATS climate satellite was delayed and had to be launched from New Zealand instead."
Esrange's new investment increases Sweden's competitiveness
The decision to expand Spaceport Esrange with the addition of satellite launch infrastructure was taken by the government of the time in 2020. The fact that Sweden has now become the first country in Europe with this capability is likely to open up many new opportunities and increase Sweden's competitiveness, predicts to Anna Rathsman. She believes that the ongoing NATO application and the European pursuit of independence from Russian spaceports could give Sweden significant influence in international space collaborations.
– "This would encourage companies to come here, and it has already kickstarted a kind of positive spiral in Kiruna, creating great development opportunities for Swedish expertise, which is already very advanced in these areas. It also opens up Sweden to new, commercial players who can create many new jobs. Having the institutional infrastructure is extremely important as a kind of foundation and technology development platform to make you competitive. It can then, in turn, make it possible to attract other outside money and business."
Crowding in space requires clearer laws and regulations
The fact that Sweden is keeping up with space developments is not only important for the world of research and civil society. It has also become of increasing military interest. In recent years – particularly since Russia's invasion of Ukraine – it has become clear that a nation's defences should not be limited to land, sea and cyberspace. More and more countries are now choosing to plough extra investment into space, not least to allow for more sophisticated surveillance and intelligence gathering. As space becomes an arena for more and more interests, including new players, there is a need for updated legislation governing Swedish space operations.
– "The current Swedish Space Activities Act was written in the 1980s and fits onto half a page of A4," explains Rathsman, who believes that while it has worked well so far, it doesn't cover everything in the complex landscape that space has now become.
– "There is not enough room for everyone. So many people want access, and there is no owner to deal with. So clear restrictions and laws governing the use of space are needed, and have been for a long time. A committee has now submitted a proposed new law to the Swedish Riksdag.  This is absolutely crucial in determining how we can further develop Esrange. Getting a new Space Activities Act is one of my big wishes for 2023."
More investment required if Sweden is to keep up
The opening of the new launch site at Spaceport Esrange is a major advance for Sweden as a space nation, but to continue to keep up, more and more investment will be required. Funding and support from future governments is of vital importance, and so far no clear signals have come from the new government, says Anna Rathsman, who has hopes of more initiatives now that ministers are starting to settle in.
– "Space must be placed higher up on the priority list in Sweden. Much has been done in recent years, with the Government Offices of Sweden increasing the Swedish National Space Agency's budget, for example, but a lot of work remains. We are starting from a lower level than the rest of Europe, and many of our neighbouring countries are still investing a lot more. Space is an extremely important strategic area that we should start to see more as infrastructure for the benefit of the planet."
Facts
What is Spaceport Esrange?
It is a Swedish facility for space research, satellite monitoring and the launch of research balloons and rockets, located 40 kilometres east of Kiruna. Spaceport Esrange is owned and operated by the Swedish Space Corporation, a space technology company that has partnership agreements with ESS and NASA.
What is the Swedish National Space Agency?
The Swedish National Space Agency is the authority responsible for all state-funded Swedish space operations conducted in Sweden and internationally. Operating within the Ministry of Education, the main task of the Space Agency is to ensure the advancement of Swedish research and development (R&D) in the field of space and remote analysis.
What is the ESA?
The European Space Agency is the equivalent body at European level. It is governed by 22 member countries, including Sweden. The ESA carries out a number of different space missions and has various facilities for space research and rocket launches around the world. One of these is Spaceport Esrange outside Kiruna.
What is the Guiana Space Centre?
The Centre spatial guyanais, as it is also known, is a spaceport that France built in Kourou, French Guiana, in South America. Among other things, it is used by the ESA to launch satellites and Ariane 5 rockets that transport astronauts and supplies to the International Space Station (ISS).
About Anna Rathsman
Anna Rathsman has been Director-General of the Swedish National Space Agency since 2018, and in parallel also chairs the ESA Council, the governing body of the European Space Agency (ESA). Anna Rathsman obtained a Master's in electrical engineering from KTH Royal Institute of Technology and is now one of Sweden's leading experts in Swedish and international space operations. Anna Rathsman has also been a Fellow of the Royal Swedish Academy of Engineering Sciences (IVA) since 2021.