The pursuit of green steel
Sweden wants to be the first in the world to produce fossil-free steel on a large scale, revolutionising the iron and steel industry, which today accounts for 7 percent of the world's greenhouse gas emissions. But how well is Sweden placed against the global competition? We asked IVA Fellow Anders Werme, Associate Professor of Production Technology with a focus on the mining and steel industry.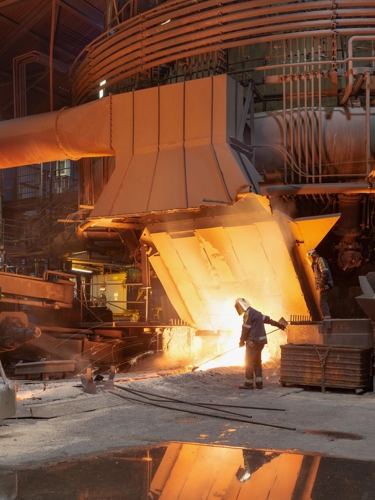 Published: 09 May 2023
Last Updated: 28 June 2023
Sweden is a long way ahead and has many of the key prerequisites to become a pioneer in fossil-free steel.
So says Anders Werme, who has held leading positions in the Swedish and international steel industry for over 35 years – not least at SSAB and Arcelor Mittal, which are generally ranked among the world's largest steel companies.
Steel industry a key factor in achieving the climate goals
The mining and steel industry is currently one of the industries with the highest greenhouse gas emissions. Taking into account the entire manufacturing chain, from the mining of the iron ore to the finished product, global steel production accounts for about 7 percent of humanity's total fossil emissions. Much of these come from burning coal as a reducing agent in the blast furnaces, where oxygen is removed from the iron ore so that it can be processed into steel. There is thus a pressing need to invest in methods to produce steel that generate lower fossil emissions, or ideally none at all. This could prove to be a crucial piece of the puzzle in achieving the emission reductions set out in the Paris Agreement.
– And there are several approaches that can be taken, says Andres Werme.
Sweden leads with the hydrogen approach
One of the main approaches is to use fossil-free electricity to produce hydrogen, which can replace coal in the manufacturing process. The gas, which can be produced by electrolysis with oxygen as the only emission, can then be used in what are known as direct reduction plants, as a replacement for today's coal-based blast furnace technology.
– Sweden was definitely the pioneer that put this development on the agenda, and from a manufacturing perspective it has become the main focal point around the world, says Anders Werme.
In 2016, SSAB, Vattenfall and LKAB launched the joint initiative Hybrit. Four years later, the world's first pilot plant for the production of fossil-free steel was opened outside Luleå, and in August 2021 the plant presented its first fossil-free steel produced using hydrogen. In the same year, the company H2 Green Steel announced that it had begun construction of a plant for large-scale production of 'green steel' outside Boden. The goal is to be able to reduce carbon emissions by 95 percent
Global competition from multiple angles
However, Sweden is not the only country where investments in fossil-free steel are being made. Both Spain and Canada have advanced plans to build plants similar to those planned in Sweden. In Germany, the country's largest steel manufacturer, ThyssenKrupp, has decided to replace one of its blast furnaces with a direct reduction plant that can run on hydrogen. The machine parts alone are expected to cost SEK 20 billion in this giant project.
– The German steel manufacturers are all convinced that hydrogen is the only truly viable way to go. Despite all the challenges, they see no alternative when it comes to reducing greenhouse gas emissions, says Anders Werme.
Major challenges
One of the major challenges of using hydrogen is that there are currently no plants that can produce hydrogen gas on a sufficient scale. Production would also initially be expensive and require large amounts of fossil-free electricity. According to the Swedish iron and steel producers' association, Jernkontoret, at least an additional 15 TWh would be needed in Sweden alone, which corresponds to more than a tenth of all the electricity produced each year. In Germany, Canada and Spain, the plan is therefore that the new plants will initially run on natural gas, which only generates half the greenhouse gas emissions of coal.
– The new plants that run on natural gas are adapted to be able to run on hydrogen gas in the future, when it becomes available at a more competitive price, says Werme.
Many choosing other solutions
In the search for the most economical and competitive solutions to reduce emissions from future steel production, several countries are pursuing routes other than hydrogen. A key factor is adapting to the conditions and resources that exist in the region where the steel mills are located.
– For example, Japan and Korea have limited fossil-free energy resources, which means that they are initially focusing on trying to optimise existing processes in their relatively new steel mills, based on blast furnace technology. However, this will only have a marginal impact on emissions. Hydrogen is being investigated over the longer term, as is the outsourcing of iron production to countries with good potential for the production of fossil-free energy, says Werme.
China, which currently accounts for half of the world's steel production, has also chosen to focus primarily on refining and streamlining the technology used in the blast furnaces in which it has already invested.
– For the foreseeable future, the Chinese will therefore continue to use this technology and refine it as much as possible, while at the same not ignoring alternatives such as hydrogen gas. The Chinese are trying to understand the technology themselves in order to develop it further, Werme adds.
Recycling and capture
Another way to reduce emissions from today's blast furnaces is to manufacture steel from materials that do not generate the same amount of carbon emissions. In Sweden, for example, scrap metal and iron is reused in the process. There is also a third way forward, which is to capture and store the carbon dioxide emitted. This can be done using Carbon Capture and Storage (CCS) technology, where carbon dioxide is pumped down into the bedrock. In theory, there is also potential to develop new technology and new industrial processes that can reuse the captured carbon dioxide in the manufacture of new products.
– Steel producers around the world are trying to find their optimal path towards reducing the fossil emissions from their processes. In fact there are many different paths, and they are looking for the solutions that they think will be most economically competitive in the future, says Anders Werme.
Sweden's competitive advantages
Although Sweden is far from alone in investing in technology to reduce emissions from its steel production, Anders Werme believes that we have advantages that can give us a continued edge, not least when it comes to the potential for producing fossil-free steel using hydrogen. One such advantage is that Sweden is one of the few nations in the world that has access to the type of very pure iron ore required to run plants that use direct reduction.
– This is a major competitive advantage. What is more, Sweden has considerable access to fossil-free energy – although future demand will be higher. Most other countries in the world rely on fossil-based energy. So with these two factors in mind, I think Sweden has some of the best conditions in the world to move forward with the hydrogen option, says Werme.
Challenges still lie ahead
Swedish company H2 Green Steel has set the goal of starting to supply green steel to its customers by 2025. And SSAB, which is part of the Hybrit project, has the ambition to convert all its steel production to fossil-free by 2030. But there are still several important pieces of the puzzle that come with both risks and costs. Major government investment is required to expand the capacity to produce all the fossil-free electricity that will be required. At the same time, the companies involved must invest billions of dollars in the construction of larger test facilities that can demonstrate the feasibility and viability of large-scale hydrogen and steel production.
– Sweden is a long way ahead and has many of the key prerequisites to become a pioneer in fossil-free steel. But it is important that this is done without jeopardising either government finances or the companies' finances. It might perhaps be possible to create some kind of larger coalition of countries or companies that join forces and develop the final steps together, to enable large-scale production of fossil-free steel, concludes Anders Werme.