The right strategy at universities yields more sustainability entrepreneurs
How do we create the right conditions to stimulate entrepreneurship with an emphasis on sustainability in university-adjacent environments? IVA's Entrepreneurship Academy has sought to answer this question by interviewing researchers, educators and other key individuals at six Swedish universities. Here you can read the results, which are part of a broader, Nordic-Baltic study presented in June 2022.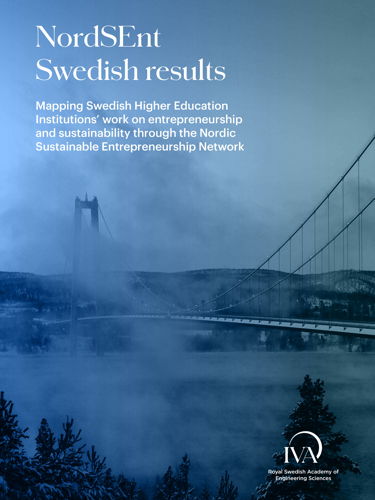 Published: 18 October 2022
Last Updated: 15 August 2023
Three tips for keys to success
Learning by doing
It is not enough to explain in words what sustainable entrepreneurship is – students need to have the opportunity to work with it through practical experience. By offering students a chance to test their business ideas in a protected environment, their endeavours are not limited by a fear of failure.
Mixed teams are best
Give students the opportunity to learn through a team-based and multidisciplinary approach. Make sure that the team is mixed from as many perspectives as possible. When educators also work in teams they can benefit from each other's skills and knowledge, enabling a deeper understanding of complex educational issues.
Partner with the private sector
By partnering with local businesses students gain access to relevant and clearly defined case studies; they are offered valuable feedback on their ideas and, in many cases, also access to mentors outside the university setting.
About the study
The universities participating in the study are Chalmers University of Technology, Karlstad University, Linköping University, Luleå University of Technology, Lund University and the Royal Institute of Technology (KTH). Interviews were conducted with researchers and educators at the universities, and with key individuals at non-profit and private sector organisations that are part of the universities' ecosystems. Officials at the Government Offices of Sweden were also interviewed.
The study was conducted by IVA's Entrepreneurship Academy as part of the joint Nordic-Baltic project NordSEnt. The final report of the joint initiative was published in June 202