Save the date: R2B Summit 2023
This year's R2B Summit is a full-day event taking place at 7A Posthuset in Stockholm on 4 October 2023. The R2B Summit is a unique meeting place with opportunities for researchers and the business community to find each other and exchange experiences and perspectives, with a view to creating innovations and business opportunities together. The programme is aimed at those who hold a leading position or are responsible for innovation, research and development at a company or an organisation. And at researchers on IVA's 100 List 2023.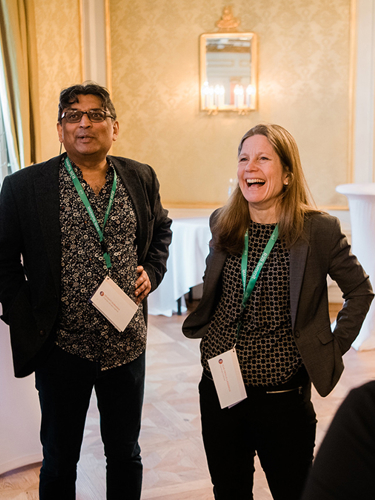 Published: 29 June 2023
Last Updated: 29 June 2023
Participation provides an insight into up to 79 current research projects from Swedish higher education institutions in the categories: Business Models, Circular Economy, Deep Tech, Green and Blue Industries, Infrastructure, Society and Welfare, and Smart Industry – all with huge potential to create value, for example through industrial commercialisation, business and method development or societal impact.
The overarching theme for the research projects on IVA's 100 List 2023 is 'Technology in the service of humanity'. All the participating projects are represented by researchers who are looking to make contact with businesses and social actors for collaboration on the continued development, application and utilisation of their research.
Register your interest
With numbers very limited, you can register your interest in taking part via this link. Confirmation of participation will be provided at the end of August.
Provisional programme R2B Summit 2023
09:00 Registration
10:00 Plenum: Research results, a source of Sweden's innovativeness and competitiveness, with a focus on commercial and social needs.
Marcus Wallenberg, IVA Chair, Darja Isaksson, Director General Vinnova, Tuula Teeri, IVA President, Marianne Dicander Alexandersson, Steering Committee Chair Research2Business, and Malin Mohr, Project Manager Research2Business, IVA. 
11:00–16:30 R2B Sessions. Meetings with the research projects from IVA's 100 List 2023.
16:30 Plenum with keynotes
17:00 Networking party
Moderator: Anders Sahlman
Lunch and coffee breaks during the day.
More information about the programme, research projects and other participants will be added later.
About
The R2B Summit is organised by IVA's Research2Business initiative to enhance and increase collaboration between university researchers and businesses for everyone's mutual benefit. The idea is that more successful collaborations on research results that lead to innovations, or other commercial developments, will strengthen Sweden's competitiveness and contribute to positive social development.