IVA's Gold medallists 2023
The Royal Swedish Academy of Engineering Sciences (IVA) awards Håkan Samuelsson, Anders Blom, Annica Bresky and Anna Wedell with gold medals. They receive the award for their outstanding achievements in technology, economics, business and society. IVA's Gold Medal has been awarded since 1921.
Published: 26 September 2023
Last Updated: 26 September 2023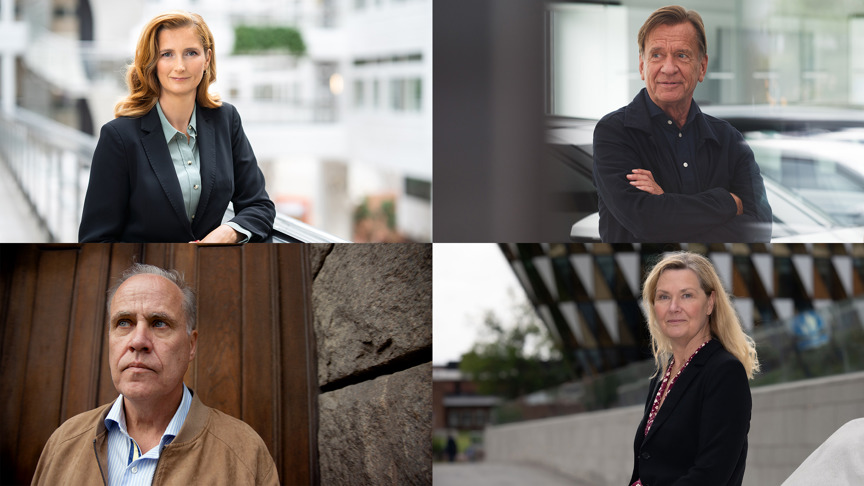 (Photo: Stora Enso, Simon Åslund, Tomas Johansson, Great Story, Stefan Zimmerman, KI)
– This year's medallists have made outstanding achievements in aeronautics, the automotive industry, precision medicine and the forest industry. The gold medallists are all IVA Fellows and an important part of our academy, which for over 100 years has worked for technology in the service of humanity, says Tuula Teeri, president of IVA.
Jury citations for IVA's Gold Medals 2023
Civil engineer Håkan Samuelsson is awarded IVA's Great Gold Medal for his unique leadership in the automotive industry in developing Volvo Cars AB. Håkan Samuelsson's contribution means that Sweden has its own car manufacturing which is also an international leader in the development of electric cars, which plays an important role for the Swedish economy.
Professor Anders Blom is awarded IVA's Gold Medal for his outstanding achievements in Swedish and international aeronautics as a researcher and research leader in material fatigue and structural mechanics with broad industrial application, and as long-term leader of the strategic innovation program Innovair since its inception.
Civil engineer Annica Bresky is awarded IVA's Gold Medal for her forward-looking leadership in industries in change. Not least in the forest industry, where she has contributed with a tireless focus on implementing processes that strengthen the strategies. She is a leader who takes advantage of cultural differences, innovation, new business models and has the power to lead the necessary transformation processes.
Professor Anna Wedell is awarded IVA's Gold Medal for her efforts in developing bioinformatics tools and cross-disciplinary working methods that have resulted in precision medicine for rare hereditary diseases being used in various disease areas, which has led to the prevention of severe disease conditions or early death.